OK, now that I have left Seattle I can write a bit about it. I also think it's about time I added some more photos to the posts I make. Just to brighten it up a bit! So anyway, along with what i did…..
All kicked off when I arrived in Seattle and just hopped on a bus downtown. I arrived downtown and walked a bit to find the HI hostel. Little did I know that this was the ONLY hostel in Seattle. Can you bee-lee dat? I was forced to go to a hostel/ranch on one of Seattle's many islands. Vashon Island. Made my way to the ferry and across. All patrons have to HITCH A LIFT about 4-6 miles to the hostel. The roads are not lit and the place is the scene of a horror movie. lucky me hitched a lift off a little old lady. A little crazy but nice.
When I arrived, as I mentioned already, the hostel is a ranch. As you can see by the photos, it's an actual ranch. The dorms and common room are in a converted barn. It's actually really cool. Met some really nice people here. Most people seem to be travelling alone, so that's cool. Got free food and the campfire was blazing (And a stinky).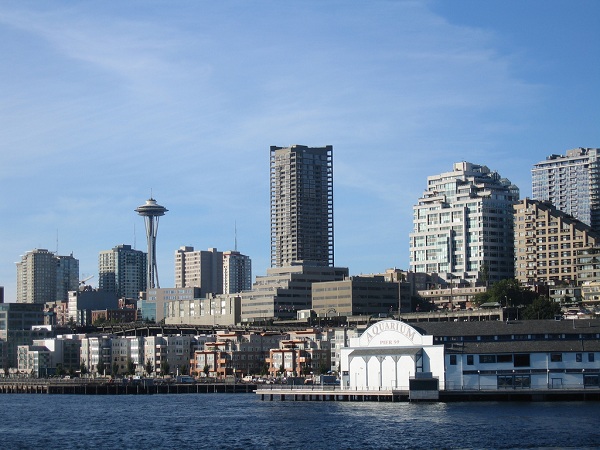 Went into town with some of the others in the morning, to Lake Washington Boulevard. No-one else cared. To anyone who doesn't know what happened here, it was where Kurt Cobain was found dead (Murdered?). Seemed like nothing ever happened of interest here. Strange feeling.
Now, on to the sightseeing. Hit the Library (Where I made that previous post from) where we planned out our day.
On to the underground (Not the metro) where we did one of the only things that cost money of the day. A nice tour of the Seattle underground. (Seattle as we know it now is actually a city built on top of the old city.) Amazing to see another city underground.
Next on to the Seattle Art Museum, which was closed then on up to Pike street market. (Famous for throwing fish…. long boring story). Walked along the waterfront all day and just panned out there too. Saw the ORIGINAL Starbucks and had a triple late (Laa-tay) there!
Headed up to MONORAIL STATION to catch a… you guessed it…..MONORAIL!
Just caught the monorail to the Experimental Music Project. A famous music thingy. Got to see lots of cool music related stuff like Kurt Cobains clothes and hand written lyrics as well as a load of Pearl Jam stuff and Jimmy Hendrix stuff and loads of other artists.. Pretty cool. Headed up the space needle. Pretty cool structure. Was here since the world fair and they decided to keep it here.
After that, we took the free Seattle bus (Their city centre buses are free) to….. HEMP FEST 2006! Met up with some strangers (The Irish accent is SUCH an asset!), got stoned off our tits and listened to some really good bands. (Maybe they only seemed good though).
After a right session, sun burning and munch fest, we decided to make the journey back to Vashon hostel. Pffff.
That night, Jackie the Australian girl introduced me to two Swiss guys who just bought a car and guess what….. were driving down to San Francisco and wanted people to share the gas money and driving time. Although we cannot drive legally here, we jumped on board. (Jackie cannot drive full stop!). SWEET.
The next day, myself and Rebecca (The holy, church going, violin teacher went to town. Saw the aquarium, some more sights and sampled a LOT of different Seattle cafes and bistros. Back to the hostel for a movie, some fresh cooked ….. tuna dinner and some pool with everyone. Spoke tot he lads and had a few beers with them to discuss our trip. Turns out, they are all like me. "Let's just drive in the right direction and see where we end up. It will work out for us eventually". Yeay! ROAD TRIP IN THE MAKING.
Next morning, we gathered our stuff, I saw the car for the first time and we were on our way to….. Portland (Which was actually in my original plan!).