So anyway, yesterday I had….. The most AMAZING experience of my life. I finally got to tick the box (On the list of things to do before I die) beside…..SKYDIVE.
After everyone backed out of the skydive Dave O Connell tried to organize, I said fuck it. I'll do it myself. When I booked it, Jenny said she wanted to do it. So we were all set. We booked ourselves in for the Friday. Everyone seemed to get jealous. 😉 One by one, people were throwing me deposits for the jump. Cape May got on board and we got the list up to 20 people!
We decided to go (out?) in style, so we booked a stretched limo for the (return?) trip. I was physically sick the night before. Went to the pictures and couldn't even remember the film, I couldn't stop thinking about it.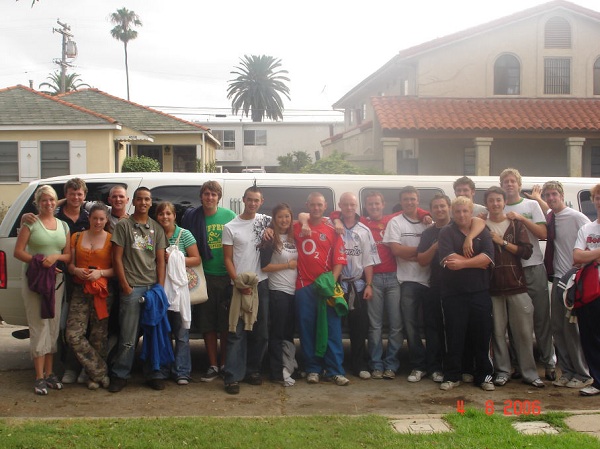 Anyway, we arrived and the shits were a plenty. A PLENTY. Being the organizer, I nominated myself to be first up and out. Didn't play out that way (Thank God). The tandem masters decided that.
After 5 mins training, we were kitted out in our harnesses. I was on the second of four flights up. I was so concerned about the heavy heartbeat I almost faked a sickness.
After the first 5 landed, and seeing the expression on their faces, I knew what had to be done. Walking across the airfield was an experience or feeling I don't want to ever feel again. Myself, Bunter, Reegan, Karl and Brendan all boarded. The shitty ass plane took off and all of a sudden…..the nerves went. It was peaceful. My Tandem Master was the coolest guy ever. Making jokes all the way up. "Oh god, I'm so hung over…I think I'm still a little drunk". Legend. It actually made me feel so much better.
Three loops around and 13,500 feet up and we were strapped to our guys. The door opened and it was judgement hour. Brendan went first and watching him fall our of that plane at that height was horrific. Reegan went next, then Karl, then my turn to waddle up the plane. My Tandem Master the shithead… "Oh shit…. this strap is broken!". I freaked. "Only joking mate….lets get off this plane.". Waddled over to the edge and something clicked in my head. Something that I doubt is supposed to click. Maybe it was the common sense switch. "Ready…Set…ARCH!" I threw myself out the plane in a backward (Unintentional) flip. HOLY good fuck. My stomach was back in the plane for about 8 seconds and then all of a sudden…..it was like hitting water as we levelled out and accelerated to 120 miles per hour downward. HOLY FUCK. It was the most amazing feeling EVER. EVER. NOTHING like what you think its going to be like. Not like a roller-coaster AT ALL. Free-falling for another 65 seconds was just pure class. My TM was doing all spins and making me "Swim" through the air. Quality. Surprisingly, because we were up as high as we were legally allowed go (Why do things like this half arsed?), the ground never seemed to come very much closer.
After the min and a bit free-fall, the chute opened and we were dragged back up. What a strange feeling. Obviously. Then…..peacefulness. Pure quiet. Had a deadly chat with the TM….he showed me were he lived and pointed out the sites and Mexico. Did some scary ass spins and after 6 mins we came in for a landing to the cheers of everyone. Speechless for about 10-15 mins. Watching the next two batches absolutely SHITTING themselves waiting was so funny. But I was so so so jealous. I gave Jon the money to do his jump so I couldn't afford to go again. Oh well. The other 10 went up and no-one backed out. We all went back to hodads in our limo for a "Sky Crew" meal and to talk about it. Good times. Good times.
My only regret….. Not getting a video.
I have now found my new drug. Planning to cancel my trip to San Francisco and do a solo jump at some stage next week. Can't fucking wait. Can't fucking wait.
To anyone who has never done a sky dive, Add it to your list of things to do before you die. Seriously. You will not regret it. (Unless you die).
Peace out.