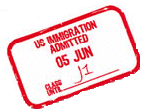 OK, I'm a little late, but I can now confirm that my J1 Visa has been approved, my passport has been stamped, and my flights have been booked! Now, I can let myself get excited.
I fly out on the 31st of May at 6:30 in the morning. Lovely. Hit London for 6 hours, then to Washington. Stay there for another 4 hours and then on to San Diego for some …ehhh, sun, sea, sand and some desperate looking for a house and a job.
I have to say, I cannot wait. Sarah is coming over to see me in July, so that makes the deal even sweeter. Now I just have to whore myself out to a thousand REALLY fat chicks to pay for the trip. San Diego bound!