A last minute hectic booking. The recipe for a fantastic event. I ♥ techno has been an event I have always wanted to attend ever since I got back from Asia. Unfortunately, due to it's date in November, something always came up and got in the way. Usually something work related. This time, rather than head to Australia a few days early, I convinced Essy to come along and see what all the fuss was about.
Luckily, the idea had been festering in my head as a result of Carolyn, a friend I had met only two three or four times before pestering me about going. She's one of the types that tries to get as big a crew together for everything, even if she barely knows most. She facebooked me her details, me and Essy booked and before I knew it I was standing at Dublin Airport with Es, Caz and Brona, Carolyn's friend.
After some luggage rearrangement and a few beers, we were on our way. Thank God the girls were the talky-easy-to-get-on-with types. Flight felt like a 15 minute commute.
The event was held in Ghent, a fantastic little city in Belgium that reminds me of Konstanz. Arrived safely in one of Ryanair's "middle of fucking nowhere" airports and got a €150 taxi to Ghent (Most Ryanair flights actually work out more expensive when you add up commute fares, I'm surprised nobody has copped on). Arrived, checked in and went exploring the town a little. Carolyn and her directions 😉
Had a meal, headed for a quick nap that never happened, a bit of a wash then got ready to tear the arse out of it.
Get the Flash Player to see this Test Post – Content Styling video review.
A few drinks in an Irish bar, some peer pressure at the tram stop and we were on our way. Chubba Chupps sponsored the event in some way so there were plenty of free lollipops around. They even built an I Love Techno wall, see below, our only group photo!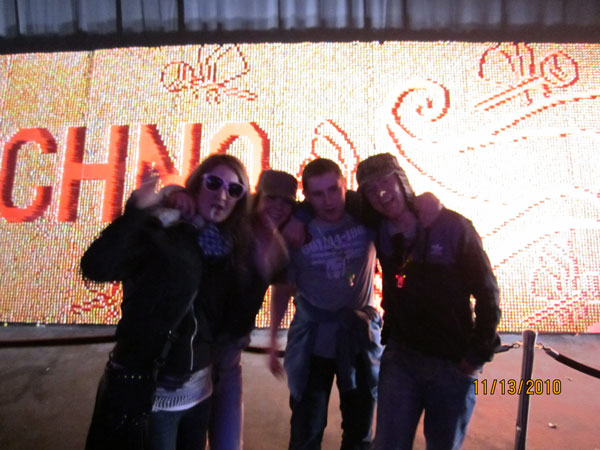 So the night was brilliant. 35,000 people in one single indoor event. I can't describe the scale of this in words. It's just something you would have to see for yourself. My timetable, worked out for weeks (even when I wasn't going) was perfect. Very few clashes and all the DJs I wanted to see. Unfortunately, it was not to be. First stop, Boys Noize and to my dismay, the room was completely full. No chance getting in. Sadly, this was to be the case with a few other acts that night.
Headed over to underworld and met with Caz and Brona who we had separated from earlier due to a scheduling conflict 😉 Underworld were amazing. Proper danced it out. Next was bloody beetroots, the only act a "must see" for me but it was not to be. The room was officially closed out. Signs saying "Please go to another room". I guess it was to prevent a repeat of the love parade thing.
Things got a little blurry after this. Vitalic was next and was the complete highlight of my night. Loved it. Got to squeeze in a dance at Dave Clarke, Dr. Lektroluv and finished off the night with a dull performance from Robert Hood. Flaked out in the chill out area, then left. Went back to the room and panned out for a few hours. I *think* we got some sleep. Not so sure.
Woke up early the next day, went to Paddy Foleys (And Irish bar in Ghent) and met a massive crew of other I ♥ techno heads. A MASSIVE crew. Things start to get a little weird here. Not sure if I imagined most of the rest of the night or not. Made almost instant friends with the rest of the ILT heads and the music was pumping. Phone calls back home, mexican wave dancing and a pledge to continue the night somewhere else.
We ended up in a place called π-nuts. Dancing on tables, bottles of Gin, toilet madness and new friends. Fantastic night. The party continued in Caz and Bronas hotel room (for the little time they had it).
After a missed late checkout, it was all back to our room. Red wine murder scene, grapes in caesar salad, missed flight. Fortunately for Essy, he had the sense to get up and go.
Long story short, after another night of madness that really shouldn't have been (Belgian whiskey drinkers are the worst, Arklow assholes and "I could have been your chick") we made it to the airport on time. At this stage, none of us wanted to talk to each other and were ready to get home. Unfortunately, a massive fog delayed the flight for an hour. So we slowly made our way to the gate. When we arrived, apparently the door of the aircraft was closed so we couldn't board. Next flight home is in 12 hours.
Missed Christmas dinner, horrible sleep at the airport, extra plane fare and we finally boarded. Landed at Dublin airport for a brief goodbye.
An amazingly fun weekend with a bit of a bummer of an ending. Would I do it again? Hell yes.